University of Essex & The Students' Union at Essex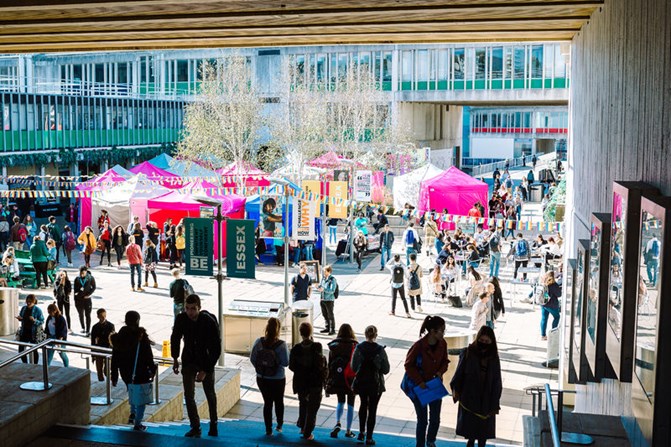 About the organisations

The University of Essex (UoE) is a global university. It plays an important role in the cultural and economic life of the communities surrounding its campuses in Colchester, Southend and Loughton.
UoE is committed to excellence in teaching and research. It ranked 39th out of 130 UK universities in the Complete University Guide 2023. It puts student success at the heart of its mission, supporting every student from every background to achieve outstanding outcomes, preparing students to thrive in their future lives.
The mission of the Students' Union (SU) at Essex is to become the world's most student-centred organisation. They aim to do this by providing educational representation and offering a wide range of extra-curricular activities to students at all three campuses.
Experience with the EALTS

UoE has been working with the EALTS for several years. From the start, the UoE team was impressed by the EALTS team's knowledge and helpfulness.
Initial conversations centred around:
• working together to support local businesses
• funding apprenticeships for key university partners
• supporting development and organisational and strategic goals, where these align closely with UoE's strategic priorities
Claire Cross, University of Essex Apprenticeship Manager, then got in touch with Jenny Burrows, People, Engagement & Development Manager at the SU. The two discussed how a levy donation could fund apprenticeships for SU staff.
"As the Students' Union is a charity," explains Jenny, "We often find we don't have enough money to invest in staff development as we might like. We don't meet the threshold to build a levy pot of our own, so we were excited to hear about the opportunity to use the EALTS."
Claire and Jenny discussed the process with the EALTS team, who walked them both through the whole thing. This included finding a suitable training provider and setting up required digital accounts and transfer links.
"It was very straightforward," says Claire, "and the EALTS team was at the end of the phone if we needed any help or advice."
Outcomes and benefits

Within a month of engaging with the EALTS, the UoE was able to approve the levy transfer. Shortly after that, three SU employees began apprenticeships. These will help staff to develop their skills and careers, as well as enhance the work they do.
"We recognise the benefits of apprenticeships in supporting our people strategy," says Claire, "such as talent recruitment, development, retention, succession planning, productivity, service improvements and professional qualifications for our workforce."
Claire believes that transferring some of the university's levy has enabled them to share these benefits with their wider community.
Jenny adds, "It gave us the opportunity to offer development at a much lower cost and higher level than we would otherwise have been able to do. This will help staff to develop, build experience and achieve a qualification to support their future careers."
What would you say to anyone considering using the EALTS?

Claire says, "The EALTS makes the process really easy for donor organisations. They are always responsive and supportive. I would recommend the matching and brokering service to other local businesses and look forward to working with the EALTS more in the future."